---
House at Rose Creek Ranch

Small Images
View these pictures with small size images (~150x100), if this page loads too slowly.
Return to Rose Creek home page
Go back to tour other areas.

---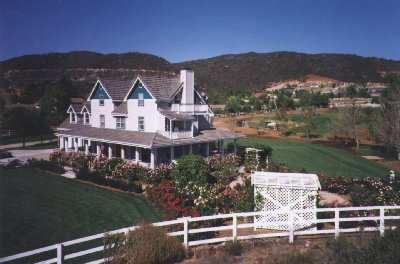 Giant size
A view of the 3800 sq. ft. ranch house from a rocky knoll outside the fence.
The view is North, looking at the back of the pergola, rose garden, and porch.
The hillside behind the house is a favorite area to hike with the dogs.
The backyard grass is about 8,000 square feet, and handles parties of 200 people, with our large tents for shade.
Total property size is 5 acres, and includes a meadow, stream, and pond with island.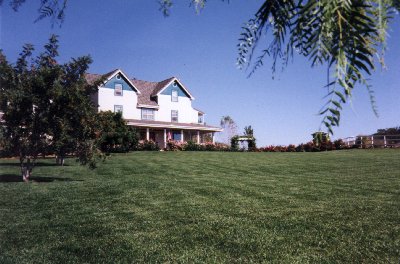 Giant size
From under a spreading California Pepper tree, a view of the front lawn, and three-story house
The front grass is over 20,000 square feet, and a perfect place to hold a wedding reception, fundraiser or garden party.
The views back are of the Santa Rosa Plateau, and down over the Murrieta Valley.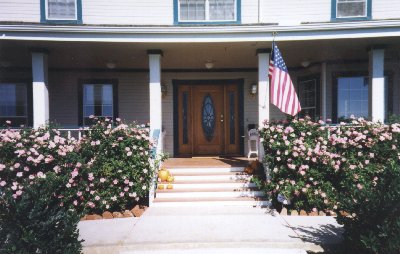 Giant size
Up the steps to the porch and front door.
No the roof isn't sagging, that's a wide angle lens effect!
The porch is surrounded by 25 pink "Simplicity" rose bushes.
The fragrance makes sitting and reading on the porch an enjoyable experience.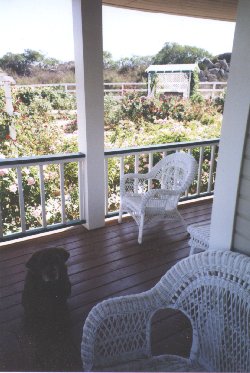 Giant size
From the porch, relax on a wicker chair, and look out on the rose garden.
The porch wraps around three sides of the house and is surrounded by sweet-smelling rose bushes.
Our trusty Chocolate Labrador "Rosebud" (obliquely mentioned in the sundial poem) stands ready to fetch your slippers.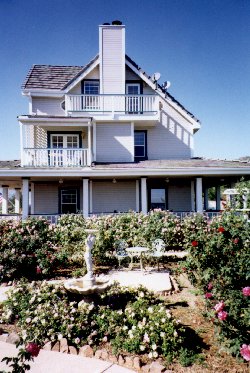 Giant size
The side of the house, looking in from the rose garden.
You can see two of the three porches: off of the master bedroom on the second floor, and off of the third floor library.
Also visible are two DirecTV satellite dishes on the third-floor soffit.
The chimney connects high-efficiency wood stoves in the living room, and in the master suite.
---
Questions or comments?: email us
This page last updated on November 8, 1997.
Copyright © 1997, Rose Creek Ranch, all rights reserved